Harold stays an Anarchist to the end.
Harold was always someone who thought ahead and, sad though it made those of us who were friends and comrades, he anticipated dying in prison, which is, as we know, what occurred. Harold had made arrangements through the prison system and via friends to be cremated and for his ashes to be forwarded to a supporter in the UK. From here his last wishes were left to us to complete and they were to be taken to Northern Ireland and to be scattered in Lock Neagh; but before that was to happen Harold, in death as in life, had to run the gauntlet of the law.
Harold's ashes arrived safely in the UK and arrangements were started to get him to Ireland. He was taken over to another supporter who had always promised to take Harold out for a 'drink' and this proved to be fortuitous as Harold's original location was raided by the police and almost anything not bolted down was confiscated as 'evidence'. What they would have made of a box containing a grey substance we will never know, but this time at least Harold had managed to avoid the 'long arm of the law'.
To avoid any further complications enquires were made about transferring human ashes to Ireland and we were told that there were no requirements as it was obvious that the person in question could not make any further trouble for the state. We were told to inform the airline that we would be carrying human ashes and so, after booking the flights for the 30th May, they were called up. We were informed in no uncertain terms that we would need certificates of Death and Cremation, neither of which had been supplied by the prison or place of cremation. Even after explaining why these were not available it was made clear that the ashes would be refused transport, so we were in a bit of a dilemma. Some lateral thinking was in order, and so Harold was packed up very carefully in two boxes surrounded by bubble wrap and covered finally in brown paper. He was then posted First Class with a request for a signature on delivery from the hotel at which we were due to stay on the Saturday night. No questions were asked about the contents of the parcel so no information was offered. The hotel was informed that a package would be arriving and on the day before the flight we phoned. To our relief, Harold had arrived safely!
On Saturday the 30th May 2009 four of Harold's supporters flew from the UK to Northern Ireland and went straight to the hotel where Harold's ashes were taken into our possession once again. Strangely for Ireland, there were no pubs open close to the hotel so, after a 30 minute walk with Harold in tow, we found an open pub and his memory was toasted with fond stories swapped.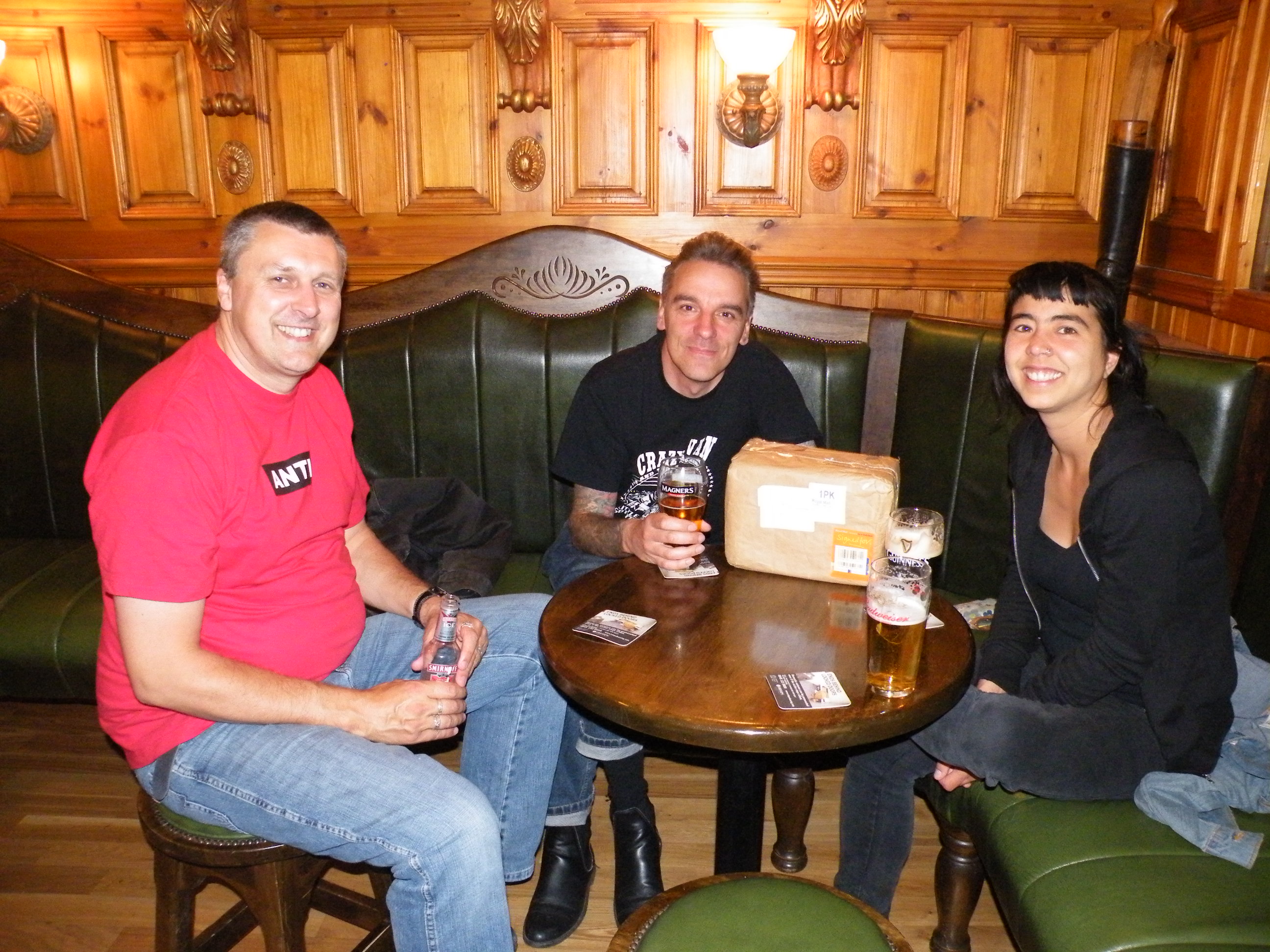 A farewell drink
The next day we met up with a supporter from Spain and travelled to Loch Neagh where we met with Harold's final supporter from Northern Ireland. The six of us set off in the blazing sunshine in search of a suitable and private place on the banks of the Loch. We had since found out that we should have requested a permit to scatter human ashes at the site of the Loch but, quite apart from the practicalities of this, it had been agreed by all that it was a fitting tribute to Harold that his last action should be an illegal one. None of us have any idea of the penalties of breaking this law and none us could give a damn. Harold would leave us as he lived his life, an Anarchist to the last.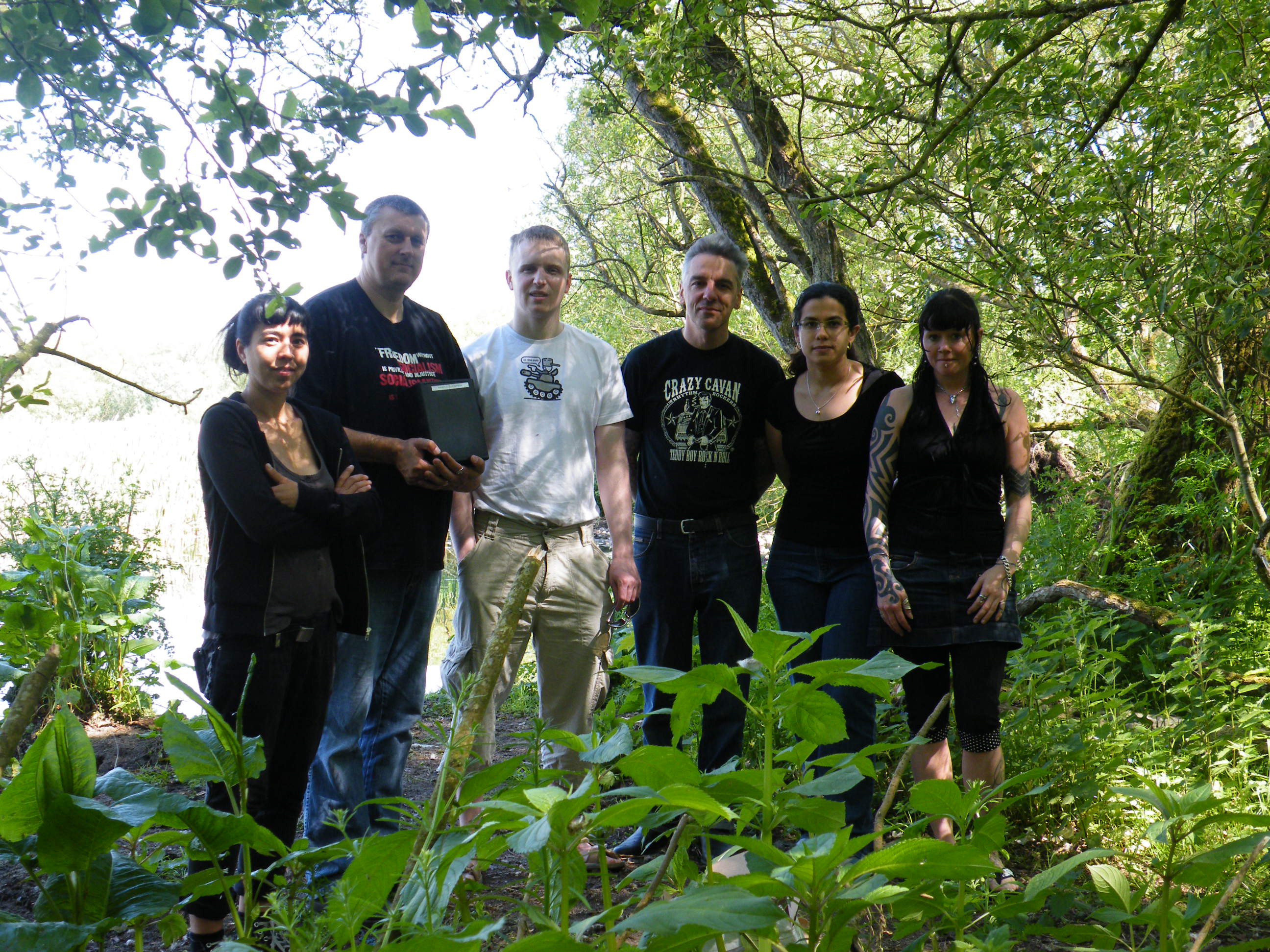 After a half hour walk we found a suitably remote area away from the normal tourist paths. We each took it in turns to scatter Harold's ashes into the Loch as he had requested. It was the least we could do for a man who was regularly beaten down by the system but was never defeated by it. We then retired to a local pub for more toasts to Harold and more reminisces of his life and how he had affected us all.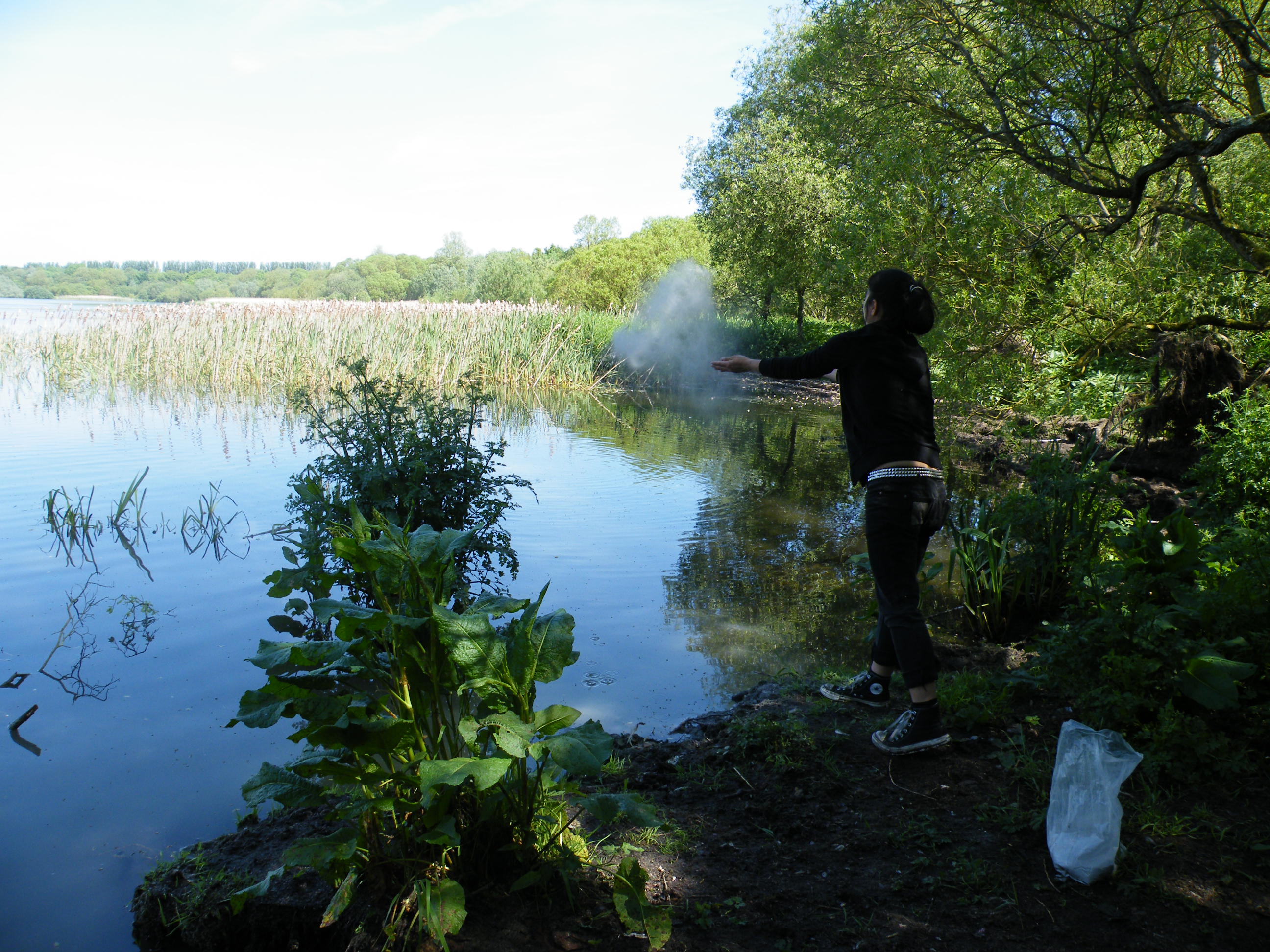 Scattering Harold's ashes
It is strange to say that none of us who had scattered his ashes had ever seen Harold in the flesh, nor spoken to him on the phone; all communication had been by letter. However, he had deeply affected us nonetheless and was counted as a friend and comrade. His life and death had touched us all in different ways but he would always be remembered with warmth, affection and as an inspiration.
Goodbye Harold, Friend, Comrade and Brother.....they will never get us all!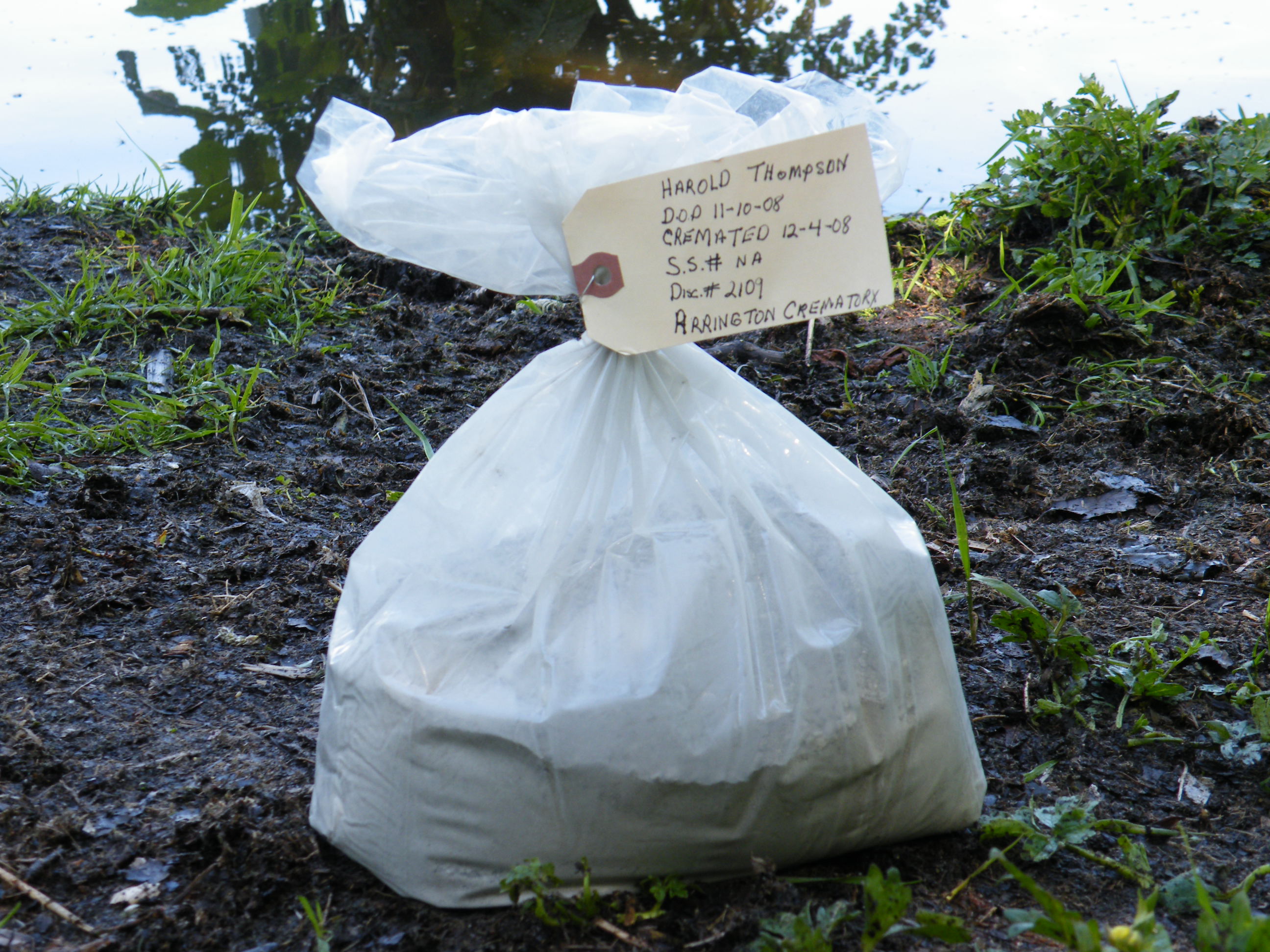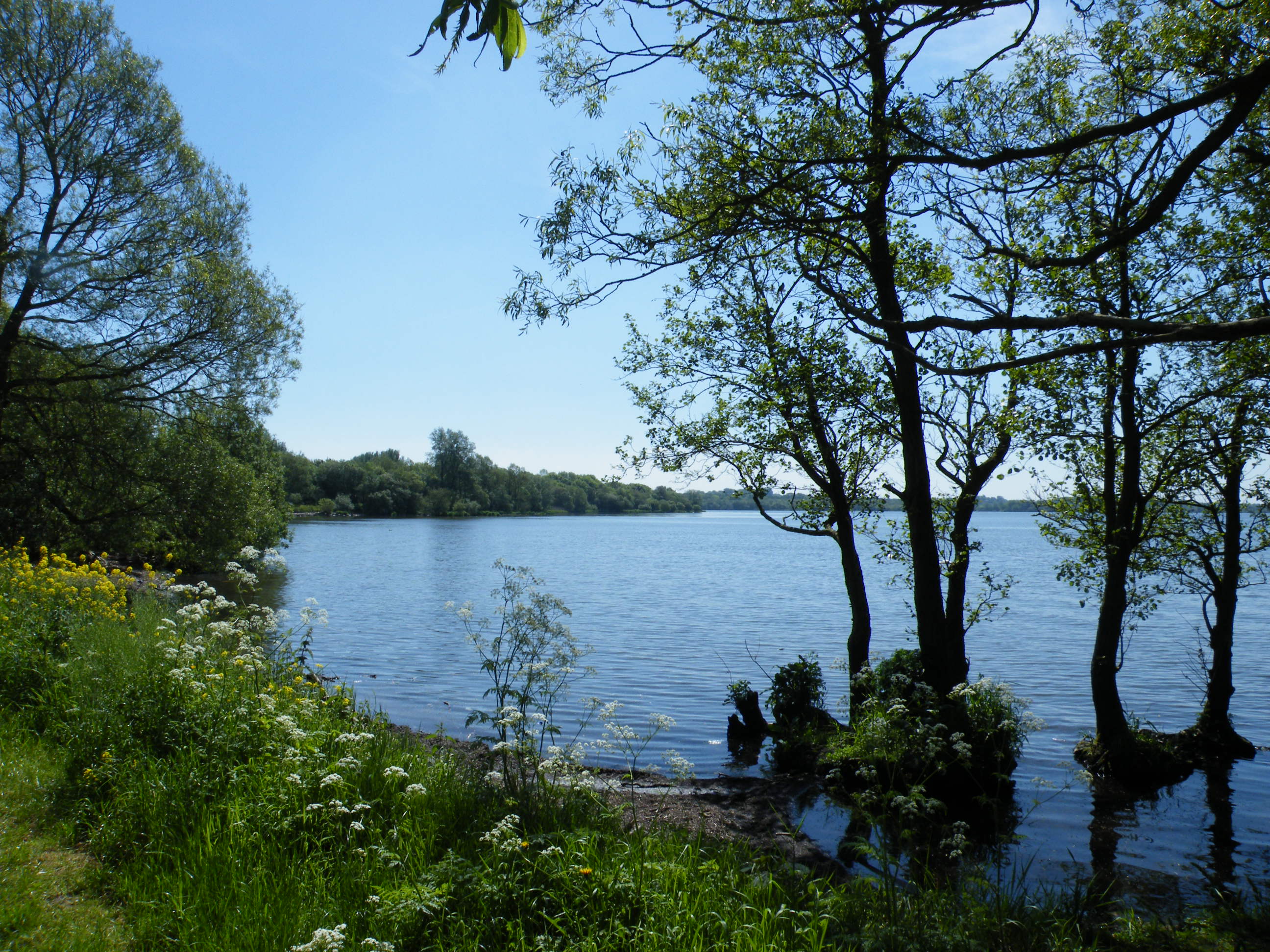 Harold's final resting place at Loch Leagh